The Original Safe Battery Powered Chainsaw, since 2004.

All the frights your customers demand without any of the liabilities.
Featuring digitally mastered audio, custom circuit board, powerful amp,
and rechargeable battery.


ORDER NOW FOR THIS SEASON

3 DESIGNS TO CHOOSE FROM
STANDARD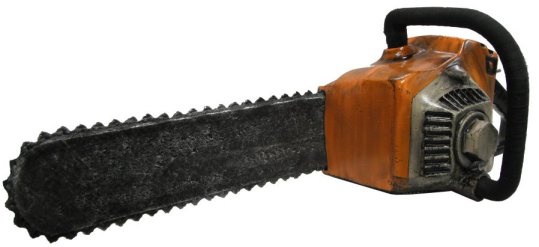 $850





3D GLOW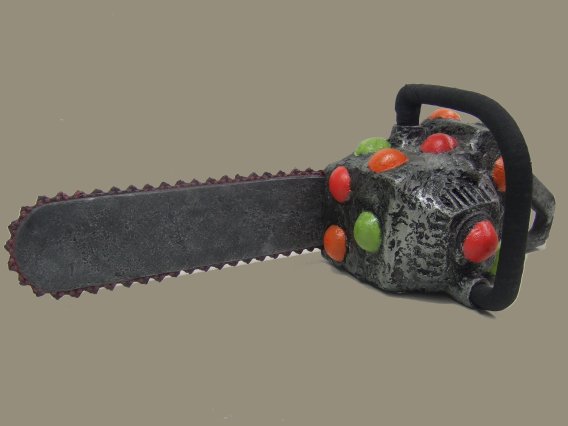 $850





GORY HEAD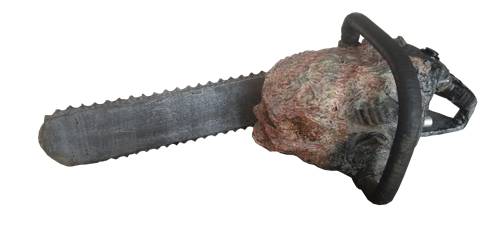 $1000 LIMITED AVAILABILITY
FEATURES:
HAND PAINTED FIBERGLASS BODY (light weight yet very strong)
SAFE FLEXIBLE CHAIN AND BLADE (steel re-enforced)
INSTANT OFF AND ON (one handed operation)
DIGITALLY MASTERED AUDIO
LOUD AS A GAS CHAINSAW (95db at 10 feet)
DIRECTIONAL SOUND (actor controls the direction of the audio)
ADJUSTABLE VOLUME
PUSH BUTTON FOR REV-UP SOUND (fully actor controlled)
RELEASE BUTTON FOR REV-DOWN AND IDLE (fully actor controlled)
RECHARGEABLE BATTERY AND HOLDER INCLUDED (6 hours of continuous full volume rev on a single charge)(12-18 hour recharge uses standard 12v 5ah battery included)
2 YEAR WARRANTY ON ELECTRONICS
COMPARISON CHART

GAS CHAINSAW

TOXIC FUMES
FLAMMABLE LIQUIDS
HOT MUFFLER
METAL CHAIN BAR
COMBUSTION ENGINE
PULLCORD START
POSSIBLE HEARING DAMAGE
HEAVY
OUTDOOR USE ONLY
LIMITED USE TO STRONG ACTORS
SPOOKYPROPS CHAINSAW

COMPLETELY SAFE
COMPLETELY SAFE
COMPLETELY SAFE
SOFT FOAM
ELECTRONIC
BUTTON START
ADJUSTABLE VOLUME
½ THE WEIGHT
USE EVERYWHERE
ADD TO ANY ACTOR
A PURCHASE OF ANY OF OUR CHAINSAWS INCLUDES WALL CHARGER, BATTERY WITH HOLDER, AND U.S. SHIPPING.
ADD $50 for CANADA Shipping
ADD $100 for UK Shipping

DISCLAIMER: These are handmade and the colors will vary from saw to saw